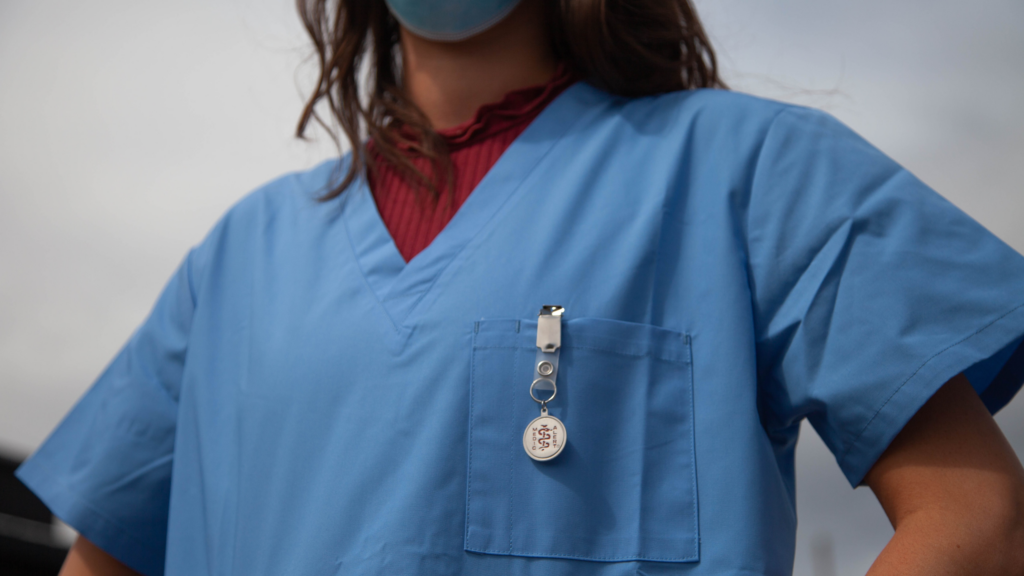 In the dynamic and ever-evolving landscape of Canadian healthcare, Registered Practical Nurses (RPNs) play a crucial role in delivering quality patient care. RPNs are an essential part of the healthcare team, offering a unique blend of education, skills, and services that set them apart from other healthcare professionals.
RPNs are healthcare professionals who undergo education and training to ensure they are well-equipped to provide a wide range of healthcare services. To become an RPN in Canada, individuals typically follow a structured educational path that includes:
College Education: RPNs complete a diploma program offered by accredited colleges across Canada. These programs generally span two to three years and provide a comprehensive curriculum that covers topics like anatomy, pharmacology, nursing theory, and clinical practice.
Licensing and Certification: After completing their education, aspiring RPNs must pass the Canadian Practical Nurse Registration Examination (CPNRE) to obtain their license. This examination assesses their knowledge and skills in various aspects of nursing practice, ensuring they meet the required standards of competence.
Continuing Education: RPNs are required to engage in ongoing professional development and education to stay current with evolving healthcare practices and maintain their licensure. This commitment to continuous learning ensures that RPNs provide high-quality care throughout their careers.
Services Provided by RPNs
RPNs offer a wide range of services that contribute significantly to healthcare here at Winterberry. Their scope of practice is defined by provincial regulations, but common services provided by RPNs include:
Patient Assessment: RPNs are skilled in conducting thorough patient assessments, including physical examinations, vital sign monitoring, and gathering medical histories. These assessments help diagnose and plan appropriate care for patients.
Medication Administration: RPNs are trained to administer medications, including injections and intravenous therapies, under the supervision of registered nurses or nurse practitioners. They ensure patients receive their prescribed treatments safely and accurately.
Wound Care: RPNs excel in wound care management, including dressing changes, wound assessments, and infection control. Their expertise in this area is invaluable in promoting wound healing and preventing complications.
Health Promotion and Education: RPNs educate patients and their families on various aspects of healthcare, such as managing chronic conditions, adopting healthy lifestyles, and understanding treatment plans. They play a vital role in empowering patients to take control of their health.
Care Planning and Coordination: RPNs collaborate with other healthcare professionals to develop and implement care plans tailored to each patient's needs. They help coordinate services and ensure that patients receive comprehensive care.
Palliative Care: RPNs are often involved in providing end-of-life care and support to patients and their families. They offer comfort and compassionate care during challenging times.
At Winterberry we value our RPNs and are thankful for the continued commitment to our patient's health and wellbeing.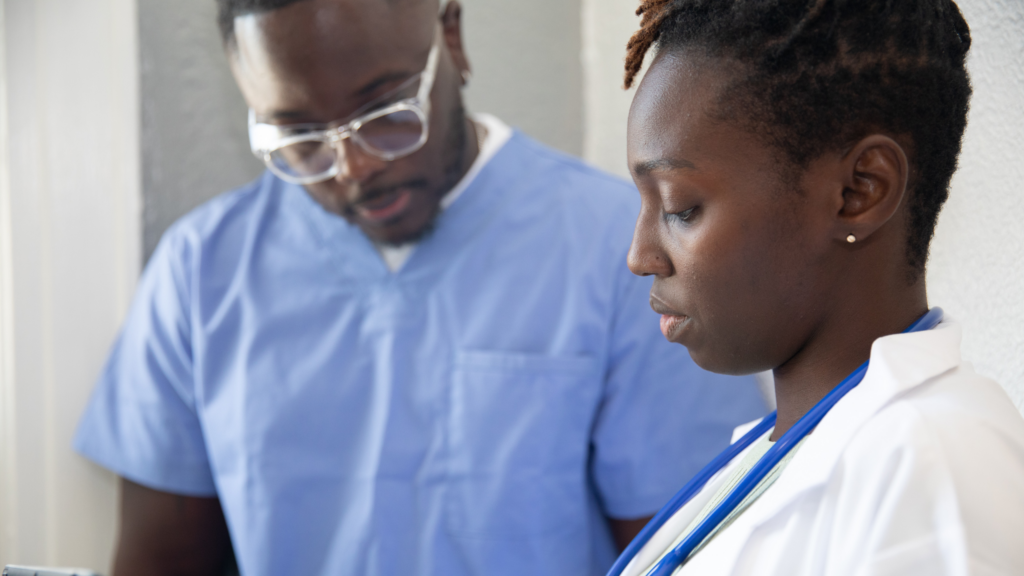 In the ever-evolving landscape of Canadian healthcare, Nurse Practitioners (NPs) have emerged as essential healthcare providers who bridge the gap between traditional nursing and medical care. At Winterberry we are proud to have a highly-skilled and caring team of Nurse Practitioners.
During appointments you may have a Nurse Practitioner helping you. This blog will help you understand what an NP is and what role they play in helping to keep you, your family and our community healthy and well.
With their unique blend of advanced education and clinical experience, NPs play a crucial role in delivering high-quality healthcare services across the country.
Becoming a Nurse Practitioner in Canada is a rigorous and demanding process that requires a solid foundation in nursing and extensive additional training.
Services Provided by Canadian Nurse Practitioners
Canadian Nurse Practitioners are qualified to provide a wide range of healthcare services, making them valuable members of healthcare teams.
Some of the services they offer include:
Diagnosis and Treatment: NPs can assess, diagnose, and treat various acute and chronic medical conditions. They can order diagnostic tests, interpret results, and prescribe medications when necessary.
Preventive Care: NPs are well-equipped to provide preventive healthcare, including vaccinations, health screenings, and health education to promote healthier lifestyles.
Chronic Disease Management: NPs play a significant role in managing chronic diseases like diabetes, hypertension, and asthma. They work closely with patients to develop personalized care plans and monitor their progress.
Minor Procedures: NPs can perform minor medical procedures such as suturing wounds, removing stitches, and conducting biopsies.
Referrals: When necessary, NPs can refer patients to specialists or other healthcare providers for specialized care.
Patient Education: NPs emphasize patient education, ensuring that individuals understand their health conditions and treatment plans. They promote informed decision-making and active participation in healthcare.
How Nurse Practitioners Differ from Medical Doctors
While Nurse Practitioners and Medical Doctors (MDs) share some similarities in their roles, they also have distinct differences:
Education: MDs undergo a more extended and specialized education path, including medical school, residency training, and often fellowship training in a specific medical field. NPs, on the other hand, have a nursing background and complete advanced nursing education.
Scope of Practice: MDs have a broader scope of practice and can perform complex surgeries and procedures, while NPs focus on primary care and preventive healthcare, with some ability to perform minor procedures.
Nurse Practitioners are vital contributors here at Winterberry and we celebrate and thank them for their contributions.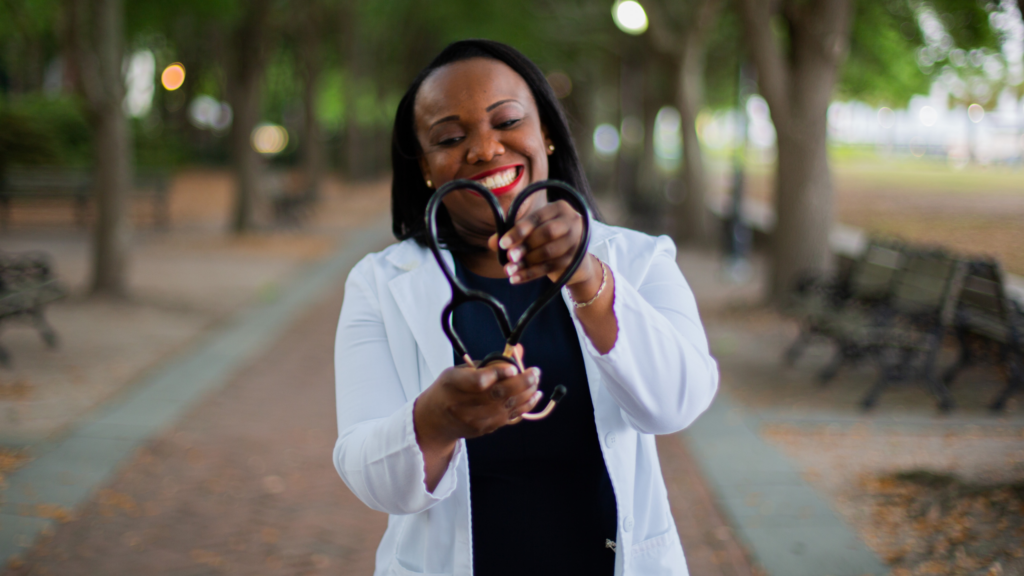 Here at Winterberry and in every healthcare setting in the country, Registered Nurses (RNs) play an integral role in ensuring the well-being of patients. These dedicated professionals are highly trained, compassionate, and vital members of the healthcare team.
So what is an RN and what training do they have?
Becoming a Registered Nurse is no small feat. It requires rigorous education and training. Most RNs hold a Bachelor of Science in Nursing (BSN) degree, although some may possess a diploma or associate's degree in nursing. BSN programs typically take four years to complete and include both classroom instruction and hands-on clinical experience.
During their education, aspiring RNs learn a wide range of skills and knowledge. They study anatomy, physiology, pharmacology, and medical-surgical nursing. They also gain proficiency in patient assessment, healthcare ethics, and the intricacies of the Canadian healthcare system.
Upon completion of their education, RNs must pass the National Council Licensure Examination for Registered Nurses (NCLEX-RN) to obtain their license to practice. This exam assesses their knowledge and competence in various nursing domains.
What can you expect an RN to do when caring for you?
Registered Nurses are versatile healthcare professionals who provide a multitude of services to patients across different settings. Their primary responsibilities include:
Patient Assessment: RNs are skilled in assessing a patient's health condition. They conduct comprehensive physical exams, take medical histories, and analyze diagnostic tests to form a holistic view of the patient's health.
Medication Administration: RNs administer medications to patients and monitor their response to treatment. They ensure that medications are administered safely and correctly, and they educate patients on proper medication management.
Wound Care: RNs work with patients as appropriate in wound assessment and management. They clean and dress wounds, monitor healing progress, and provide guidance on wound care to patients and their families.
Patient Education: One of the crucial roles of RNs is patient education. They teach patients about their conditions, treatment plans, and self-care techniques to promote better health outcomes.
Collaboration: RNs work closely with other healthcare professionals, including physicians, nurse practitioners, and allied health providers, to coordinate patient care and ensure the best possible outcomes.
Registered Nurses are often considered to be the heart of the healthcare system. Their dedication, education, and commitment to patient care make them indispensable members of the healthcare team here at Winterberry.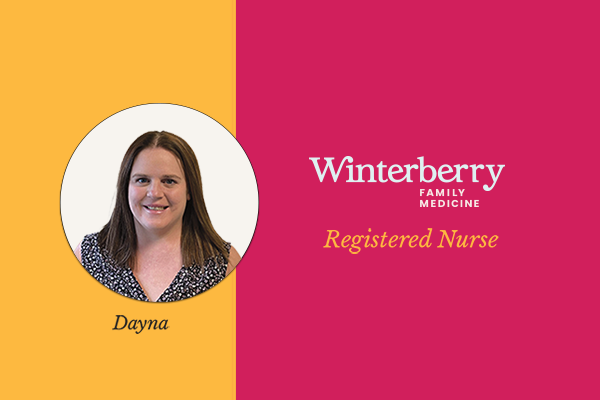 At Winterberry we're proud of our team and are always looking for ways to not only celebrate and showcase them. We're also dedicated to helping our patients get to know our team them better and that's why each month we catch up with one of our amazing Winterberry team members and ask them a few questions. These quick Q+A's help all of us get a glimpse into what makes them a special part of our team.
Dayna, what is your role with Winterberry?
I am a Registered Nurse, and Certified Diabetes Educator
What is the best part of being a Certified Diabetic Educator?
The best part of being a Diabetes Educator, is providing our clients with the tools, knowledge and resources needed to successfully self-manage their diabetes.
What interested you about being a Diabetic Educator? Why did you choose this area of specialty?
Millions of people in Canada live with diabetes, and education is the key to good management of diabetes. Health teaching is already a big part of my role as a nurse, and I wanted to specialize in an area of need.
As a Certified Diabetic Educator you're a vital part of our team, can you share any special moments from Winterberry that made you know that you're making a positive difference in our patient's lives?
Anytime our patients feel supported, confident and accomplished is a good day. Some simple smiles and laughs, never hurt either.
When you're not at work, what are your hobbies and special interests?
When I am not at work, you will either find me, outside with my kids and dog, or travelling to a new wine region with my husband.
Each month we catch up to one of our almost 50 team members at Winterberry to find out more about what they do at Winterberry, how they chose their profession and so much more. This month we were so happy to find time with Munira and hope you enjoy our quick Q+A!
Munira, what is your role with Winterberry?
I am a Family Nurse Practitioner (FNP) at Winterberry. With 15 years of experience within the critical care and long-term care setting, it became apparent through my journey that primary care is foundational to the patient's overall treatment plan and well-being. It was a natural transition to move onto the family care environment after attaining my FNP credentials from D'Youville University (Buffalo, USA) in 2019.
What is the best part of being an NP?
The best part of being an NP is the opportunity to make personal connections with my patients. Knowing about their overall lifestyles and motivations is integral to proposing treatment options that are suited to individual needs and circumstance . Being a nurse practitioner allows me to deliver holistic, patient centered and compassionate care. Winterberry makes it possible to spend quality time with my patients seamlessly while providing individualist care.
What interested you about being an NP? Why did you choose this career?
I always wanted to be in the medical field in order to make a direct difference in an individual's quality of life. Nursing offered me that basis. After gaining invaluable experience over a decade in nursing, I made the conscious decision to expand my skills in treatment, work-up, diagnosis, and intervention, these are key competencies that I utilize as an NP.
What does an average day look like for you at Winterberry?
An average day at Winterberry is anything but average. Working amongst some of the smartest practitioners, physician assistants, nurses, doctors and staff there is always something interesting and exciting to learn. I have the privilege of seeing patients individually throughout my day and also coming together for some down time at lunch and having education sessions with my colleagues to discuss comprehensive cases.
As an NP you're a vital part of our team, can you share any special moments from Winterberry that made you know that you're making a positive difference in our patient's lives?
I have had an amazing experience at Winterberry. It has been an honour to come into a dedicated group that provides an inclusive yet autonomous environment. Winterberry allows me to give my patients my undivided attention to offer the highest quality care they deserve. I feel I'm making a positive difference when the patient is leaving my room smiling, and satisfied with their needs, and requesting me to be their NP for future visits. Providing a treatment plan but also getting updates from my patients on their lives, their interests, and their families is important to holistically addressing their needs while building trust.
When you're not at work, what are your hobbies and special interests?
I have two beautiful girls, who are 2 and 7 years old. Together with my husband, we enjoy time outdoors, visiting festivals and attractions. We love to travel and enjoy great food. I love to watch legal dramas shows and curling up to a good book with a great cup of coffee.
Each month we catch up to one of our 50+ team members in order to help our patients get to know them better. This month we sat down and chatted with Kylie, one of our hardworking and caring RPNs. We hope you enjoy our chat!
Kylie, what is your role with Winterberry?
I am a registered practical nurse and have been with Winterberry for just shy of two years.
I started my nursing career just at the start of COVID working in long term care before joing the Winterberry team.
What is the best part of being an RPN?
I love working collaboratively with my team members to help optimize patient care. It's a privilege to teach others about their health and help them when they are at their most vulnerable. I find great satisfaction in helping improve a patient's quality of life, in any big or small way. Even just making someone smile on a hard day is a big win for me!
What interested you about being an RPN? Why did you choose this career?
I have always loved the sciences and have a passion for caring for people – I am lucky to have found a perfect balance of both in nursing.
I also love to continue to learn and improve my knowledge/skills, which is necessary in health care specifically. I think it's really special that we get to care for patients of all ages – from newborns to seniors, there's always something new to learn!
What does an average day look like for you at Winterberry?
There's rarely a dull day at Winterberry! Most days I am either busy seeing patients or running around the office assisting the rest of our wonderful team.
When you're not at work, what are your hobbies and special interests?
I am an avid reader and am growing my own personal library. I love to cook, bake and spend my free time with family and friends 🙂
Heather, what is your role with Winterberry?
I am a registered Practical Nurse (RPN) with extensive experience in Stroke/Neuro, Post orthopedic surgery, as well as special needs individuals. I have also joined the Research Team here at Winterberry which is an exciting expansion to my role!
What is the best part of being an RPN?
I love supporting those in need; as a health care provider, we see people on the best and worst days. We get to walk alongside people and help them face the challenges ahead which is an honor.
Was there a special motivation to become an RPN?
I went back to school later in life; so, I knew this was my choice for life. I had always wanted to be a nurse, finally had the courage to go for it; and I could not be happier!
What does an average day look like for you at Winterberry?
I normally arrive early, with a full mug of coffee and ready to start my day! I can honestly say that my days are never the same for me; which keeps me on my toes!
RPNs are a vital part of our team, please share any special moments from Winterberry that made you know that you're making a positive difference in our patient's lives?
I have had the opportunity to see couples achieve their dreams of having a baby, I have assisted families ensure their loved ones are receiving the care they need as they age, as well as ensure preventative care is in place as patients move through various stages of growth.
One of my favorite memories recently was seeing a young mother with her new baby in office. I had started the journey with her at her first prenatal. She was fearful of the future and here was this young woman in front of me just thriving and beaming at her child. It was a pretty beautiful moment!
When you're not at work, what are your hobbies and special interests?
I have a love for gardening, veggies and flowers! I am no green thumb, but I am learning. I have also a ton of house plants I have managed to nurture. I play piano player; I love to sing, be outside and I am a proud fur momma! I am just a happy little hippy truthfully!
At Winterberry we are committed to improving long term health outcomes through active participation in approved medical research. In fact, we have one of the largest Research Teams in the country working with our team, our patients and the community to help make research at Winterberry happen.
We caught up with a few members of the Research Team for a quick Q+A. We hope you enjoy the conversation!
How large is the Research Team at Winterberry?
Winterberry has one of the largest dedicated Research Team's in Canada. Currently we are proud to have 21 team members.
What kind of research projects is the team working on right now?
We are currently working on three studies – Vaccination, Weight Management and a Probiotic for Irritable Bowel Syndrome.
Can you give us any additional in depth information?
The TRIUMPH study is a clinical trial looking at the use of a new medication for treating knee
pain in patients who are overweight and have osteoarthritis. The EPSILON trial is looking at the use of a medication to manage depression and/or anxiety in patients with Irritable Bowel Syndrome.

Is there something you'd like our patients and the community to know about the Research Team?
The main thing that we would like patients to know is that at Winterberry Family Medicine our
primary concern before anything else is patient safety. Our Research Team's foremost goal is to ensure that a participant's experience in our trials is as simple and risk-free as possible. When patients choose to participate in one of our trials, they will be followed closely by our excellent team who is always happy to address any concerns or questions.
As a way of introduction, please share your professional credentials with us and tell us a little about what makes you excited to be working on the Research Team at Winterberry.
Ramlah: BSc., MSc., PhD., CCRP
Ramlah's Why: The best part of being part of the Research team is knowing that we are investigating solutions to medical problems so that we can come up with recommendations to advance medicine and public health. It is said that when you love what you do, you don't work a day in your life. At Winterberry Family I get to do what I love; which is working towards improving the health and quality of life of people in a thriving, collaborative, and supportive environment. Being a Clinical Researcher at Winterberry Family Medicine is more than just a Job, it's a dream come true!
Muna: MSc. (EpiBio)
Muna's Why: The best part of being part of the Research team is knowing that we are investigating solutions to medical problems so that we can come up with recommendations to advance medicine and public health.

Mae: HBSc, PGC.
Mae's Why: I recently just started working at Winterberry and reading all the protocols for the clinical studies is already making me excited about what is to come. Getting to know the team has been fun the past couple of weeks!

Shradha: PhD in Clinical Biochemistry, with clinical research experience in infectious diseases.
Shradha's Why: Being a passionate researcher, the thing that excites me most is the fact that there is always an opportunity to explore and there is always something new to learn. Working with a team of skilled and diverse individuals is highly motivating.
Amandeep: Bachelors in Dental Surgery, Post graduate diploma in Clinical Research, Pharmacovigilance and Regulatory affairs
Amandeep's Why: The best part of being a member of the Winterberry research team is that it allows me to directly contribute to the development of new drugs or therapies that will improve patient lives and make a meaningful difference in healthcare. The workplace environment is great as it fosters a culture of support, collaboration, open communication and inclusivity. It creates a positive and welcoming atmosphere where I feel comfortable and motivated to contribute my best.

Daryl Solomon: BS in Nursing
Daryl's Why: Being part of a study that aims to improve and provide better health is important to me. As well, the work I am doing is helping me achieve professional and career growth as I gain more experience and understanding about research.
Marina: Medical lab technician – phlebotomy – MLPAO
Marina's Why: It is very powerful and motivating to be part of a dynamic research team focused on clinical trials for upcoming medications. I am proud to be contributing to this important field. As for being a part of the Winterberry team, it is such a great team, dedicated, helpful and supportive.

Celina: Diploma in Biotechnology and Medical Lab Technician – MLPAO
Celina's Why: The best part about being a part of the Research Team at Winterberry for me is being able to see what goes on behind the scenes during trials. I like learning new things and being involved in projects, so I am always excited to see what else the day can bring. I also love how relaxed the environment is, you can work at your own pace.

Nav: Biomedical sciences, PgC in Mental Health and Substance Abuse
Nav's Why: Working in research at Winterberry is an amazing opportunity to work on site, learning new analytical skills. One can learn problem solving techniques. Winterberry runs multiple studies, learning time management and expands one's knowledge which is quite helpful in my research career.

Aditi: B.sc in Microbiology, M.sc in Microbiology, MLPAO(OSMT).
Aditi's Why: What gets me out of bed each day is the opportunity to work with a talented team and diverse individuals. I love being a part of a team, and it is rewarding to see everyone excited about a job well done. I enjoy listening to the perspectives of others and learning how they may approach a particular study. So, a Clinical Research Assistant is the perfect career for me. I enjoy a balance of communicating with clients and coworkers every day and each day presents challenges. This allows me to work on a variety of different studies with various individuals, helping me learn new things every day.

Deepal: MPharm
Deepal's Why: The best part of being part of the Research Team at Winterberry is the diversity, teamwork, and open communication. I'm excited about working with a
team of talented and diverse individuals to contribute and become part of everyday research.

Adhin: M.S., PharmD.
Adhin's Why: Advancing clinical knowledge, improving patient care and outcomes, continuous professional growth and learning opportunities. Making a positive impact on public health through research findings.
Danish: Pharm-D degree and an Advance Diploma in Clinical Research
Danish's Why: Contributing to scientific knowledge and medical advancement, collaborating with talented individuals and making a healthy working environment, engaging in innovative and challenging work, continuous learning and professional development as well as potential for career advancement and specialization

Namesha: BSc in Biotechnology
Namesha's Why: I have always wanted to work in a research field, Winterberry gave me an amazing opportunity to fulfill my career goals, something that pushes me out of bed every morning is that I know I am
helping people. Knowing that I am contributing to their better health and happiness keeps me happy and motivated.

Hely: PharmD (Doctor of Pharmacy), CCRP
Hely's Why: I am glad to be a part of the Research Team at Winterberry. The whole team
is very friendly, which helps increase productivity for all of us. The seniors from our team are
very good at giving us feedback and helping us generously while sharing good ideas and suggestions. We all work towards common goals which makes it easier for the whole team to work and be successful as a group.

Yasith: BHSc (Bachelor of Health Sciences (Honours)
Yasith's Why: The best part of being a member of the Research team is knowing that I am helping make a difference in patient lives. By assisting in clinical trials, I am able to help patients access potentially beneficial novel treatments that otherwise would not be available to them. Another positive of the Research team is the fantastic work atmosphere that our team has created. Everyone is extremely helpful and accommodating, brightening up even my worst days.
Kathleen, what is your role with Winterberry?
As many of our patients will be aware, my role at Winterberry has changed over time. I joined the team in 2017 after working in Emergency Medicine for 8 years. From 2017 on, I had the pleasure of seeing many patients directly. Recently I have transitioned into a different role and am now focused on clinical education, special projects and supporting the providers in their daily patient care.
What is a Physician Assistant?
A Physician Assistant (PA) is an allied health practitioner that works under direction of a supervising physician. PAs work within the scope of practice of their supervising physician to provide medical care. PAs and NPs alike improve access to care for patients everywhere. These vital assistants examine, diagnose and treat patients under the guidance and direction of a physician. They have the authority and certifications necessary to prescribe medication, interpret test results, examine patients and give patients treatment plans.
What is the training for this role?
In Canada there are currently three universities offering a PA program. PAs train in a medical model and then enter a year of clinical clerkship prior to finishing the program.
Not all clinics have Physician Assistants on their team. How does having this role at Winterberry improve the quality of care we can give our patients?
Because physician assistants have the education and training necessary to treat patients, they have the skills required to provide more patients with the care they need. Medicine is moving away from one provider providing all treatment and having many allied health providers. Physician Assistants are extensions of the physicians. Physicians often do not have the time in their schedule to see as many patients as they would like. It is in those circumstances that a PA can take on some patients and treat them under the direction of a doctor. As we know there is a shortage of doctors and a surplus of patients needing care, so having a mix of providers with different experience and expertise is best for any health care team.
What is the best part of being a Physician Assistant?
The best part of being a health care provider is the immense privilege of participating in patients' lives. My colleagues and I strive every day to bring our best to the incredible patients and families we work with.
When you're not at work, what are your hobbies and special interests?
Work and family life do not allow a lot of time for special interests, however where time allows I love to read, cook and spend time outdoors. I started a Winterberry book club this year and thus far we have read "The Myth of Normal" and "Empire of Pain".

Everyone experiences periods of positive and negative mental health throughout the duration of their life. Some people live with mental health conditions like anxiety and mood disorders and experience periods of wellness and periods of poor mental health. Other individuals may not be living with a mental health condition, but can still experience periods of wellness mixed with periods of mental wellness.
This month we caught up with Kelly, one of our skilled and caring Mental Health Counsellors and asked her a few questions to help our patients and community members understand her role and how we're here to help.
QUESTION: How does Winterberry help and support adult patient's mental health?
KELLY: The adult population holds the majority of individuals we see at Winterberry. By utilizing a person-centred approach, the mental health counsellors seek to meet the clients where they are at in their mental health journey, and provide compassion and empathy for their concerns. Interventions can be used to address mental health concerns, but the power of providing a safe space where the client feels truly heard goes a long way. With the wrap around support of the medical staff at Winterberry, treatment plans can be tailored to each individuals needs and they can receive a number of different supports that help with mental health. If outside referrals are needed, the team works together to expedite this.
QUESTION: How does an adult know when to book an appointment based on concerns around mental health? Can you share some warning signs that additional support is needed?
KELLY: If people are feeling overwhelmed by their daily lives, this can be a good reason to reach out for mental health counselling. If individuals are experiencing anxiety, workplace stress, depression, or not enjoying things they usually enjoy, it can be a sign that your mental health is slipping. Mental health counselling can also be a great preventative measure for decreased mental wellness. Goal setting and unpacking difficult things with a professional can be very powerful, and help give adults the tools they need to navigate life's challenges on their own.
If you or someone you love needs mental health help, please reach out to us at Winterberry.