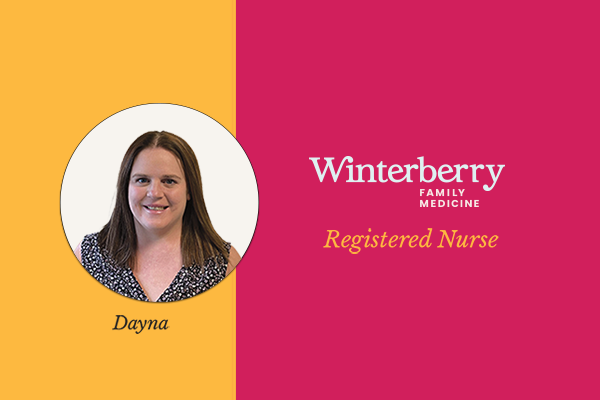 At Winterberry we're proud of our team and are always looking for ways to not only celebrate and showcase them. We're also dedicated to helping our patients get to know our team them better and that's why each month we catch up with one of our amazing Winterberry team members and ask them a few questions. These quick Q+A's help all of us get a glimpse into what makes them a special part of our team.
Dayna, what is your role with Winterberry?
I am a Registered Nurse, and Certified Diabetes Educator
What is the best part of being a Certified Diabetic Educator?
The best part of being a Diabetes Educator, is providing our clients with the tools, knowledge and resources needed to successfully self-manage their diabetes.
What interested you about being a Diabetic Educator? Why did you choose this area of specialty?
Millions of people in Canada live with diabetes, and education is the key to good management of diabetes. Health teaching is already a big part of my role as a nurse, and I wanted to specialize in an area of need.
As a Certified Diabetic Educator you're a vital part of our team, can you share any special moments from Winterberry that made you know that you're making a positive difference in our patient's lives?
Anytime our patients feel supported, confident and accomplished is a good day. Some simple smiles and laughs, never hurt either.
When you're not at work, what are your hobbies and special interests?
When I am not at work, you will either find me, outside with my kids and dog, or travelling to a new wine region with my husband.